Call now for 50$ off Pest Control
Our family has been serving the Palm Springs area for over 30 years!
Taking care of your pest control problems is more complicated than it looks! Mr. Beez knows exactly what products and application methods work best to eradicate any kind of infestation. We will also share preventative measures to make your home, even more, pest free!
We serve the entire Coachella Valley including Palm Springs, Cathedral City, Indian Wells, Rancho Mirage, Palm Desert, Indioand La Quinta, CA
Termites are a practically invisible threat – up until the point where they can cost thousands of dollars in severe structural damage. These pests are capable of far more than simply chewing through the floorboards, and can result in serious hazards in walls, ceilings, and support beams. In fact, termites cost upwards of $5 billion in property damage every single year in the US.
The Coachella Valley is a beautiful place to live, and I hope that you enjoy it as much as my family and I do.
My family has been serving the Coachella Valley for over 30 years from real estate to pest control.
Many folks are looking for a pest control company that they can trust and communicate with. When I started servicing homes in the Coachella Valley, my primary goal was to provide excellent service with chemicals that are safe for your family and pets. My goal was to have a fair pricing model and open communication to achieve the best results.
Today we serve close to 1,000 families in the desert. We currently hold the highest rank on Yelp. Please check out our reviews.
My team and I would love to give you a quote on doing your pest control, and we look forward to earning your trust and loyalty along the way.
Owner and operator Barrett Toohey MR BEEZ PEST CONTROL
Hi there, I'm Barrett, the Owner of Mr. Beez pest control we service Palm Springs and the surrounding area. Like you, I hate having pests around which is why I take pride in running the best pest control business in the Coachella Valley.
Read more about me and my company here.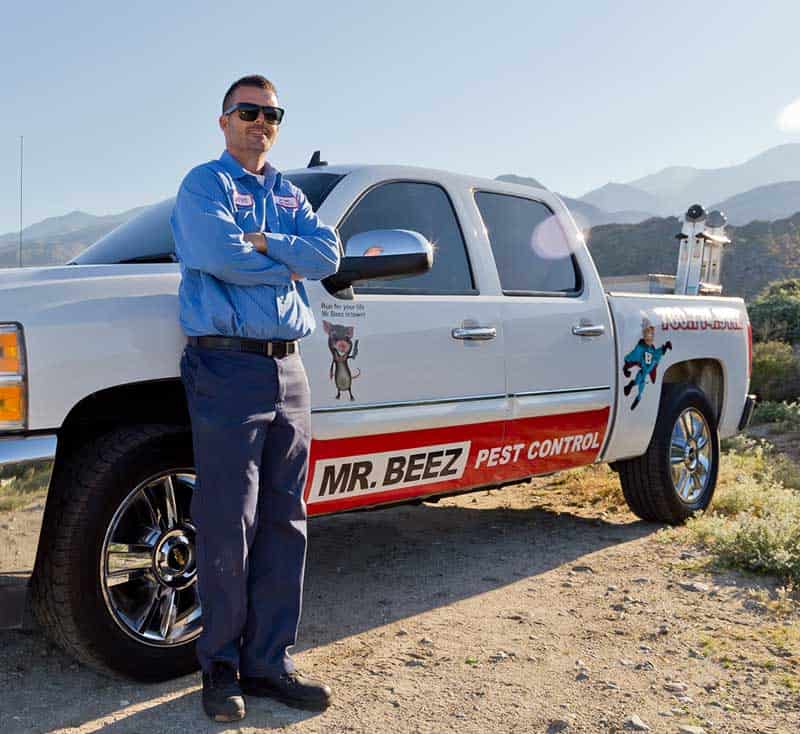 We Target All Species Of: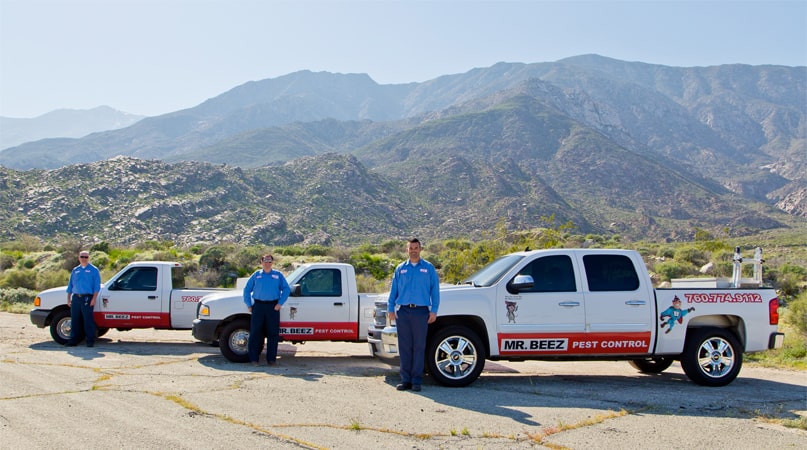 Learn more about our pest control services. Contact us today to see what our Palm Springs pest control experts can do for your home or office.
Now Offering Termite Inspection & Control
If you're unsure if your home is infected, then it's better to act than to wait and see. Our inspections fast and accurate, and we can provide a yearly service to ensure you're termite-free in the long term. We know all the early signs of termite infestation, allowing us to prevent structural damage before it even happens; leaving your home intact and your wallet happy. Request a home or business inspection now.

Richard G
Palm Springs, CA
I called Mr. Beez Pest Control for a quote and the manager was very fast to answer back. They come on time as promised and they get the job done perfectly.

Thomas F
La Quinta Pest Control
Mr. Beez was by far the best pest extermination company's I have ever hired! Very friendly and extremely helpful! I highly recommend their services !

Tiffany A.
Termite Service Palm Springs
Mr beez pest control is amazing. They did full termite job at my house in Palm Springs. They were on time and very polite

Frank A.
Termite Service Palm Springs
I am a Realtor in the Palm Springs area and have ben selling here for almost 20 years. I have used many Pest control companies for termite inspections/reports over the years. Mr. Beez was quick to respond and accommodated mine and my client's schedule. The report was complete and returned promptly. The inspector was very professional and clean and did a thourough inspection. I definitely will be recommending and using Mr. Beez in the future.

R. R.
Coachella Valley Pest Control
Barrett is an excellent professional and promptly served our needs. are in Highly recommend him. Also, in the Coachella Valley he was the only one returned almost immediately our call. Call Mr.Beez!!! you won't regret.

Palm Desert Pest Control
Palm Springs, CA
Always the very best service! Friendly and knowledgeable employees. I love that the company is locally owned as well. They have always been incredibly responsive - which is important in the desert especially after you trim your palms and all of the creatures want to come out to play! I can't say enough nice things about Me. Beez, give them a try!
Mr. Beez Pest Control is certified by the California State Certified Pest Control Operators.