Our family has been serving the Palm Desert, CA, and nearby area for over 30 years!
I Need A Pest Control Quote
Serving the Coachella Valley and surrounding areas
We put our customers first and honor a 100% satisfaction guarantee.
Your pest control problems may seem overwhelming, but Mr. Beez Termite & Pest Control is here to take your worries away. We are the best-rated pest control company in the Palm Desert area because we have helped solved termite and pest control problems for countless families in the desert.
We are committed to providing the best pest control services on the market. We exterminate ants, termites, roaches, and bedbugs with proven solutions that leave our customers satisfied. We have been serving the Palm Desert area for years and hope we get the opportunity to help you. Contact us today for a free pest control quote or schedule a termite inspection here.
Mr. Beez Termite & Pest Control is a licensed, bonded, and insured exterminator that serves businesses across the Coachella Valley. We keep businesses running at full capacity.
Today we serve families across the desert. We would love to give you a pest control quote, and we look forward to earning your trust and loyalty along the way.
Are you struggling with a termite Infestation? Termites are a practically invisible threat – up until the point where they can cost thousands of dollars in severe structural damage.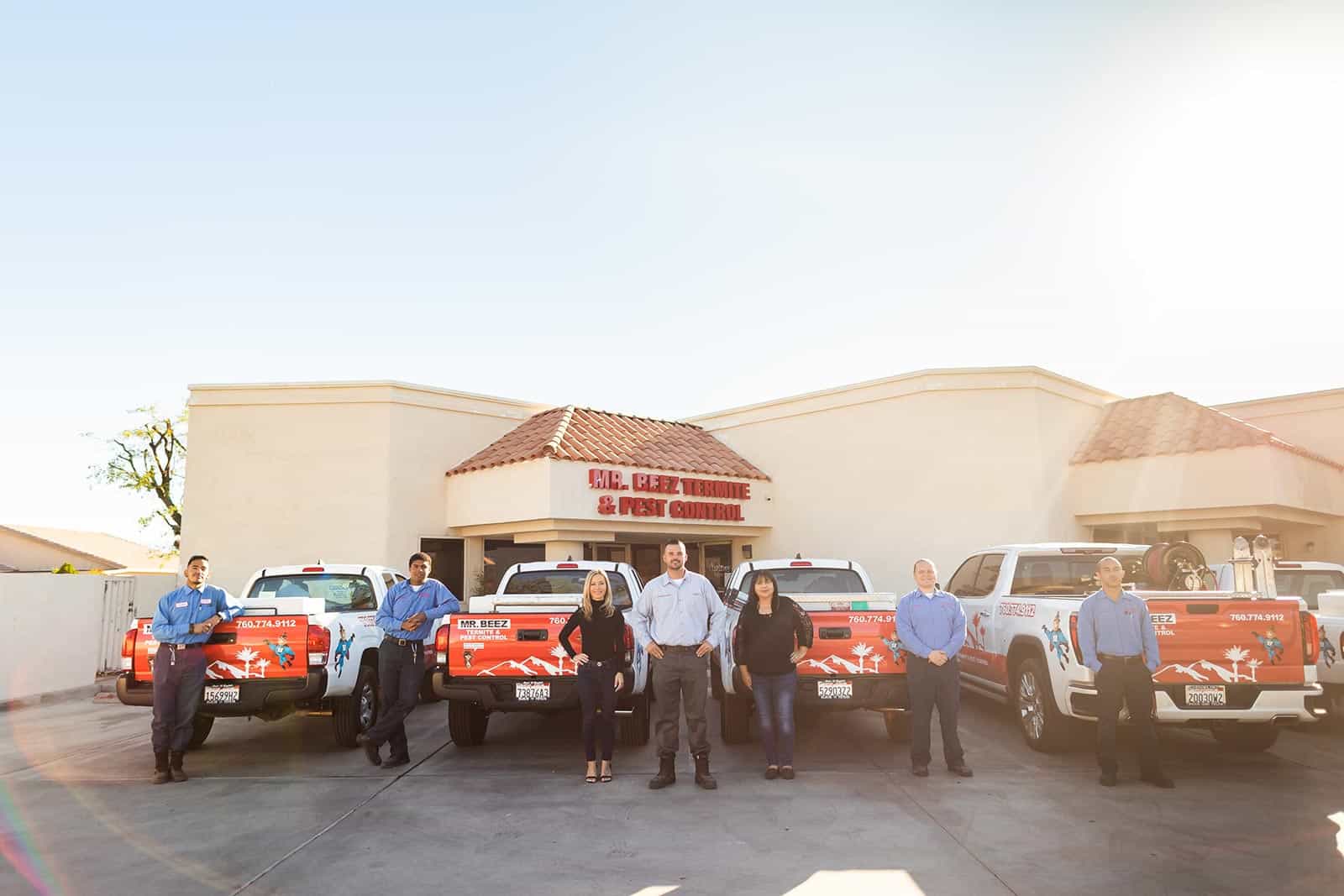 Learn more about our termite and pest control services. Contact us today to see what our Palm Desert pest control experts can do for your home or office.
Hi there, I'm Barrett, the Owner of Mr. Beez Termite & Pest Control we service Palm Desert and the surrounding area. Like you, I hate having pests around which is why I take pride in running the best pest control company in Palm Desert.
Read more about me and my company here.
Palm Desert termite inspection & control
Termite Inspection & Control
If you're uncertain if you have termites, then it's better to act than wait. Our termite inspections are fast and accurate, and we've got a yearly service to ensure that your house is termite-free in the long term. We know all the early signs of termite infestation, so we can prevent structural damage from even happening, leaving your home intact and your wallet happy.
Choosing The Best Pest Control Company in Palm Desert, CA
Whether you own a commercial or residential property, Mr. Beez Termite & Pest Control company is here to service you in Pam Desert. Infestations can pose a serious health risk for occupants, and some pests can cause extensive property damage. That's why it's important to hire pest control services to eliminate the problem and prevent future infestations. With so many companies to choose from in Palm Desert, it can be hard to find the best service. However, if you read our customer reviews, we think their testimonials will help you decide when selecting the right company for your termite and pest control needs in the desert.
Termite & Pest Control Services
Mr. Beez Termite & Pest Control provides professional pest control solutions for homes and businesses throughout the desert. Our specialties include termite control, pest prevention, and bed bug eradication. Contact us today for a free estimate on our pest control services in Palm Desert!